Low/Heroes, A Berliner Hyper-Cycle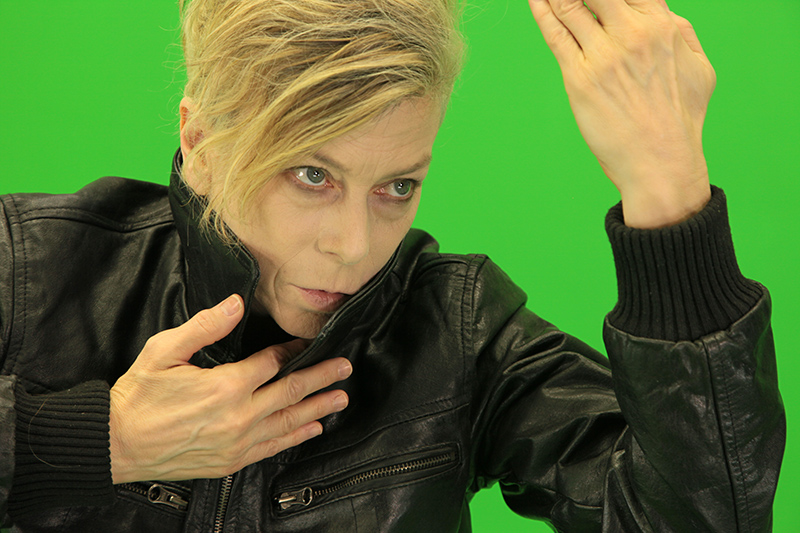 Louise Lecavalier in Heroes Symphony Choreography
Creation 7th and 8th of March 2015 in la Philharmonie de Paris
With the Orchestre National d'Ile de France under the direction of Enrique Mazzola
In the 1990s, Philip Glass composed two symphonies whose thematic sound material is a reinterpretation of certain motifs found in two of David Bowie's albums Low and Heroes (in collaboration with Brian Eno). In the British artist's career, 'Low' and 'Heroes' are the adventurous pathways to a trilogy which has too easily been coined "Berlin Trilogy"; the album 'Lodger' from 1979 being the final chapter.
In his effort, Glass partially captures the essence of Bowie's two works to write his two symphonies. "Low" is composed of three movements whose total duration is 43 minutes, while Heroes fragments into six movements having an almost identical duration. Based on the repetition of short melodic fragments, these symphonies take the public on an enchanting atmospheric journey, far from any minimalism which, alas, has often defined the music of Glass.
Low / Heroes, A Hyper-Cycle Berliner
The creation revolves around the axis of the trilogy whose spectacularization is made possible through the power of the work and its hypnotic resonance found in the filmic universe of Renaud Cojo. For the first symphony Low, Cojo performs Low Symphony whose fictional backdrop is set in Berlin. For the second symphony Heroes Cojo films Heroes Symphony Choreography with Louise Lecavalier and Frédéric Tavernini whose images are generated live. Between the two symphonies, "The Diary of Nathan Adler" or "The Ritual Art-Murder of Baby Grace Blue: A non-linear Gothic Drama Hyper-Cycle", written by Bowie in 1996, is interpreted live by Bertrand Belin accompanied by Stef Kamil Carlens from a cover of Bowie's "Art Decade".
Low : A film by Renaud Cojo. Music Philip Glass (Glass, Bowie, Eno) / Symphonie N°1 : "Low"
The Diary of Nathan Adler : Text David Bowie, Concept : Renaud Cojo. With Bertrand Belin. Live music : Stef Kamil Carlens. Video concept : Laurent Rojol. Scenography : Eric Charbeau, Philippe Casaban. Light: Eric Blosse
Heroes : Choréography Louise Lecavalier. Dancers : Louise Lecavalier and Frédéric Tavernini. Video concept : Laurent Rojol, Renaud Cojo. Camera assistent caméra : John Lipsz. Art director: Jaden Scholes. Studio du château St Ambroise (Montréal).
Production: Ouvre Le Chien, Opéra National de Bordeaux, Office Artistique de la Région Aquitaine, Cité de la Musique, Spectre Production, Jack Fébus Films. Avec le soutien de l'Institut Français de Berlin – Bureau du Théâtre.