SONGS with OTHER STRANGERS 2010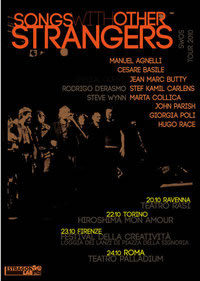 A creative encounter of a diverse group of performers:
Manuel Agnelli, lead singer of Afterhours
Cesare Basile , singer song writer
Marta Collica, voice of Sepiatone and keyboard player of the John Parish Band
Stef Kamil Carlens, lead singer of Zita Swoon
John Parish, author and producer of PJ Harvey, Eels, Sparklehorse, Giant Sand
Giorgia Poli, founding member of Scisma, bass player of the John Parish Band
Hugo Race, founding member of Nick Cave's Bad Seeds, frontman of True Spirit
This year, during specific dates, the following will join the group as well:
Steve Wynn, frontman of Dream Syndacate
Rodrigo D'Erasmo, violin player of Afterhours
The project Songs With Other Strangers was born out of an idea by Marta Collica and was immediately embraced by Cesare Basile, Hugo Race, John Parish and Manuel Agnelli. It was first presented in 2004 at the cultural center "Zo" in Catania during the Festival di Villa Arconati.  Accompanied by the rhythm section consisting of bass player Giorgia Poli, drummer/percussionist Jean-Marc Butty (PJ Harvey, Venus,  John Parish) and violin player Roberta Castoldi (Afterhours, Morgan).
The audience's positive reaction and the arrival of Stef Kamil Carlens have led to a tour in January 2005.
The performance of Songs With Other Strangers is a concert without a conventional line up in which the musicians exchange roles and experiment with the arrangements of the songs in their repertoires including excerpts from Leonard Cohen, Lou Reed, Bob Dylan, Michael Gira.
The result is a musical journey through different states of mind, languages and approaches to composition that explore the area between the different artists' background on the one hand and their personal visions of the songs on the other.
A performance very different and highly fascinating for the audience, Songs With Other Strangers is also a journey for the artists themselves.
The 2010 tour, presented by Estragon Lab, will start October 20th in Teatro Rasi in Ravenna.