New Old World  Dancing With The Sound Hobbyist

Crossover concert with songs and instrumental music
Co-production WCC Zuiderpershuis
Organization Wolvin / Zita Swoon Group vzw supported by the Arts Administration of the Ministry of the Flemish Community
Wait For Me is the meeting of Stef Kamil Carlens and his Belgian collectif Zita Swoon Group with the Burkinabe Awa Démé and  Mamadou Diabaté Kibié. The sound is a mixture of raw acoustic blues and folk and the traditional 'mandigue' music from West-Africa. Awa Démé sings in Bambara, Stef Kamil Carlens in English and French. The songs deal with the moral and the problems of modern African society.
Read more Wait For Me Programme EN
Artists
Awa Démé (vocals), Stef Kamil Carlens (vocals, resophonic gitaar, blues harp), Mamadou Diabaté Kibié (balafon) Kapinga Gysel (glockenspiel, pump organ, backings), Simon Pleysier (Gibson SG, acoustic guitar, banjo), Amel Serra Garcia (percussion), Karen Willems (cocktaildrums), Christophe Albertijn (bass guitar)
Album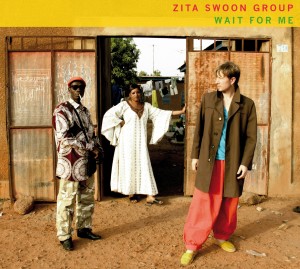 Quotes
"The project makes it clear how much different cultures have to offer each other when there is a dialog. That Manding music has become a huge inspiration to Carlens and Co. is obvious, but it's even more interesting to see what happens to African music when you don't approach it from its own circular perspective but from the Westerner's linear view.  Traditional Manding songs, with their repetitive structure, transform thanks to the Zita Swoon treatment they get in thought out, catchy pop songs with a beginning and an end." Menno Pot for De Volkskrant (4 *)
"Magical Zitafrica. We enter gently into "Wait For Me" which reunites Zita Swoon Group, Awa Demé and Mamadou Diabaté Kibié; we are overwhelmed. At the same time, everything seems to flow from the source, we are immediately at the center of it. Diabaté Kibié's balafon brings a fascinating but continuously delicate energy to the melodies. Then, Awa Demé, with her raw and beautiful voice, her sunny personality, her swaying gait, quickly captivates the audience which soon regrets being seated. The singing is a constant dialog, between Demé (in Bambara) and Carlens (in English and French). The concert goes crescendo, until it enters a high energy phase, typical of the Antwerpians but magnified here by their African brothers." Sophie Lebrun for La Libre Belgique
"Everything is thought out and admirably structured. Mamadou Diabaté Kibié is a virtuoso on the balafon and Stef Kamil Carlens also pushes him not to be shy. The show becomes a real lesson in the Bambara language and natural history. Stef Kamil wants Mamadou to explain the meaning of the songs and gives Awa Demé lots of room to express herself. Good mood and charm are essential while the band ensures fervently with their different hues of blues. Here's a show you can't miss, because it makes you happy, it's that simple." Thierry Coljon for Le Soir
"In one sentence: A concert that, despite the often serious content of the songs, burst with vitality and joy of life and confirmed that music bridges all cultural and verbal gaps.
'Wait For Me' was a success in every way: an organic project with profound meaning, Stef Kamil Carlens once again shows he doesn't shy away from an artistic challenge…and it's the result of a warm dialog between two cultures, a creative alliance based on mutual respect.
It was at once obvious, during the instrumental openers, how naturally the circular play of the Africans blended with the still recognizable Zita sound. The music had a natural flow to it, and proved to be flexible and lively. Even though the songs often dealt with serious social, ecological or moral problems, you couldn't tell from the positive vibes.
With the swinging 'Sababu', singer Awa Démé, dressed in traditional clothes and with a voice like a bell, also appeared on stage. She alternated her vocal contributions, in her own language, with Carlens' English verses." Dirk Steenhaut for Knack Focus
"Bringing Western and African music together is no easy task. But Zita Swoon does it with verve. The result stands like a rock. On stage, not too many musicians, just six Belgians and two Africans, balafon player Mamadou Diabate and singer Awa Démé. On the program only new work, sung in English and in the local languages from Burkina Faso. The songs are always introduced with a brief summary of the content. You sense that this crossover, which isn't evident, was intensely prepared and thought through, and complete." Peter Vantyghem for De Standaard (4 *)
"A concert like a sunrise. It was beautiful to see how attentive the audience kept listening for an hour and a half. While the collective worked itself to a climax, the enthusiasm in the audience grew and the applause kept getting fiercer.
Carlens opened the concert with his dobro guitar and introduced a first guest from "the other world" that he had discovered. Mamadou Diabaté Kibié is a master on the balafon (an African version of the xylophone), rooted in the traditional manding music of West Africa. A subtle dynamic immediately occurred between the two, which also completely flourished once singer Awa Démé joined the colorful group. With her hoarse and loud voice she stood preaching on stage and sang about her country, conquered loves and god's inscrutability. Stef Kamil completed this traditional word play with English lyrics. A reinterpretation like no one else can make:  thoughtful, a little wailing. The rhythm varied from dancing and intense to peaceful and calm." Wim Wilri for DeMorgen.be (4 *)
"The Antwerp Zuiderpershuis invited Stef Kamil Carlens to travel to the West African Burkina Faso in 2010. He meets balafon player Mamadou Diabaté Kibié and the singer Awa Démé. Both are griots, leaders in traditional West African musical storytelling. Stef Kamil Carlens listened to the griots' stories, observed and molded. The foundation for Wait For Me was laid during that meeting, a duet between two traditions, a lot of improvisation and seeing what the day brings.
Carlens traveled with the idea to follow the Burkinese life rhythm, 'not to get a complete image of the country. 'I spent many evenings with my fantastic guide Ibrahim Diallo and listened to his compelling life story and the stories of others.' He got to know a small group of people. Fascinating people who told him about their cultural traditions and social codes.
Before Awa Démé stepped into Wait For Me she stood rooted in the ground of Burkina Faso and Mali, cultural twin countries. She was born into and grew up in the tradition of West African griots and never learnt another language other than the spoken word.  Like many young Burkinese she thought about one day leaving the hopelessness of her dried up, hungry country. 'The people are tired of working, of fighting to get food on the table every day. It's an easy choice: leave, in search of a better life, food and drink elsewhere. Except, not everyone has that choice. And that's what Wait For Me is about.' She sings about the desire to leave in the beautiful duet A Ni Baara, in which Carlens describes the hard reality of labor immigration.
Wait For Me has become a very open project, with musicians who really respect each other. We all support the result and you can feel that.'" Tine Danckaers  for MO* Magazine
A diary fragment
'One evening, me and Kibié Diabaté Mamadou are sitting in front of the Royal Hotel in Bobo-Dioulasso. He tells me that he was born on the 35th day of January. From a very young age, he accompanied his grandfather on the balafon, an African kind of xylophone. He is wearing a red cap and has a cigarette between his lips. He has soft, sad eyes and talks in a diffident voice. Earlier today, I was at his house and we played together.
We played a travelling song.
When I come, will you teach me?
Will I learn, will you reach me?
Later that afternoon, we were joined by singer Awa Demé. She's an impressive lady with bright eyes. Her husky voice resonated loudly through the small dark room. She was wearing a colourful Dutch Wax dress and a red scarf around her head. With outspread arms, she treated us to her own travelling song.
Ani baara faso deh ani baara (So much work, so much effort, children of the motherland!) Ani baara ban kafisa ni djanfaye (Never forget our values, refusal is more honourable than betrayal) Tounkan ka galin maman (The exodus is strenuous, mother) Tounkan ka galin papa (The exodus is strenuous, father) Tounka mandy deh baira(The exodus often has a bitter taste) Tounka ti dia deh baira (Few of us successfully complete the exodus) Tounka gailen de tounka ti dia deh baira
Tounka ti dembe low fo deh youma (Only those worthy will pick the fruits of the exodus) Tounka mandi baira fo kele kele (Only few of us will be chosen for the glory of the exodus) Am be barika bila tounkaranke ye (God bless the children of the exodus)
Her poetry went straight to my heart. My world suddenly became a lot bigger. I became part of a universe of which I only ever suspected the existence. Around us, a group of adults and children was listening. It was a peaceful scene, with one of the men serving tea that he had prepared carefully. What an honour to be here! What an intense, amazing experience!" Stef Kamil Carlens