big swoon
1993-2009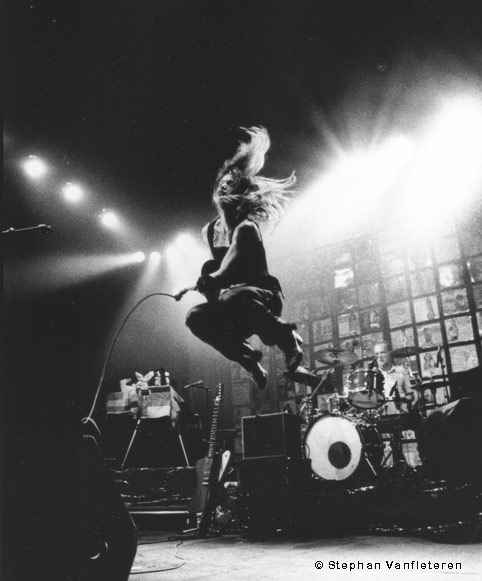 Concert on stage
The program is a selection of songs of these albums
Big Swoon refers to Zita Swoon's on stage format at club concerts and festivals. Zita Swoon looks for a dynamic equilibrium, as the band balances between music as an irrepressible force of nature, experienced as the simple, primitive urge to express oneself in a musical, almost physical way, while also processing their acoustic memory, paraphrasing and referencing the things that inspire or reflect their feelings. A Zita Swoon concert is like watching a work in progress. It's a snapshot in time, a chapter in an ongoing research project. The songs change form time after time. The stage is a laboratory and the audience is witness to a new experiment every night. That's why Stef Kamil Carlens thinks that every show should be at least two hours.
Artists
Stef Kamil Carlens, Aarich Jespers, Kapinga Gysel, Eva-Tshiela Gysel, Amel Serra Garcia, Bart Van Lierde, Simon Pleysier, Hugo Boogaerts.
And before:
Joris Caluwaerts, Kobe Proesmans, Tom Pintens, Bjorn Eriksson, Tomas De Smet, Benjamin Boutreur.
Quotes
"Meanwhile, Zita Swoon has found its own groove. The group gave a very smooth, festive show that radiated with performing pleasure for two hours and especially indulged hips and waists. A real must, though we personally missed a little of the intimacy and goose bumps from the Band in a Box concerts. Certainly, there were those moments of magic: TV Song, Remember to Withhold, Infinite Down, the to a piano-waltz reduced Our Daily Reminders and the Morphine-borrowed The Night still managed to choke us up. But Anno 2007 essentially stands for superior entertainment for Zita Swoon. To the regret of those who envy it." Dirk Steenhaut for De Morgen
"Friday, the band made the Marquee break out into a real sweat. Funk, disco, reggae, old-fashioned rock 'n roll and soul all passed the revue and they were pasted together by Carlens' voice, which is sounding more unique every year. When you experience this Antwerp band live, the event always turns into a crowd elevating party." Koen de Meester for De Morgen
"Stef Kamil Carlens and his clique always have the power to blow us out of our seats. Dressed in something only he could get away with, the ex-bassist for dEUS, moving from rooster to donkey, juggles with styles (rock, folk, blues, disco) but never lets his incredible and attractive personality evaporate. Some people have a hard time with him borrowing Gainsbourg's language, but we love it.  There aren't many who can make French groovy the way he does." Julien Broquet for Le Soir
"In a Zita Swoon song, one never knows what the next note is going to be like. The audience must love surprises since it calls back the Belgian band lengthily. So Carlens returns with one of the singers for a wrenching piece, without a micro, which leaves the audience in awe. This band will definitely never cease to surprise us." Julien Demets for Rock Mag
"From the start Zita Swoon creates an energetic, intimate atmosphere with this semi-acoustic concept. Through the suppleness the audience lets itself be swept away in a calm, musical high. But just when everyone is acclimatized the tempo is sped up en songs like Thinking About You All the Time and I Feel Alive in The City resound. The musicians seduce each other on the island and their backs are facing the audience. It's a Zita Swoon moment, but they don't lose the viewer's one beat. The different instruments and outbursts of song match perfectly with singer guitarist Stef Kamil Carlens. The temptation is great, the Zwols audience enjoys." Sanne Koetsier for Live XS
"In a little less than 90 minutes, Zita Swoon offered a warm and great achievement, saluted by an audience seduced by this new formula which, in the lead of its chief, has without a doubt ever been so free as today;" Philippe Manche for Le Soir
"Carlens' biggest asset remains his vulnerable voice, which draped itself like a bloody ermine over the ingeniously arranged songs." Gunter van Assche for De Morgen
"You open the door and you're carried away along the pier by those new and calming notes you enviously would have held on to.  At the end of the set offered as a gift, Stef Kamil Carlens rolls up his sleeves and dismantles the matos himself. Simple?  One ought not to look for noon at 2PM with this band with growing talent" Marie Caplier
"The Belgian Zita Swoon sounds essentially individualistic. They play as if nothing else were happening on the field and seem to effortlessly create a sultry and impenetrable ambient moment." Arnold Scheppmaker for Live XS 
'It became a whirling show that transformed the Halls into a stomping disco tent', says producer Linda Gaethofs. 'Blues, rock and disco blended into a new musical language. The concert was a challenging balance between a compelling blast and an enchanting melancholy, between airy pop and arty experiment." KDM for De Morgen
"The band frolicked freely in its oeuvre and consistently turned out altered versions of the songs. Not that they were drastically changed, but all in all we could say that Zita Swoon sounded more extreme than ever. (-) According to seismologists the earth did not shake, but the 1.300 present know better: this intense and playful concert was in a certain way a shocking event." Bart Steenhaut/ Christophe Verbiest for De Morgen
"Disco, believe it or not got a foxtrot version.The Bananaqueen was equally given a daring outfit and as a surprise, Stef Kamil had even studied some Izegems. The cover of Welgemeende was embellished with a guest appearance by Flip Kowlier himself, which made for some euphoric scenes among the audience. And Zita Swoon provided the prettiest bis with the stupifying Maria." BS for De Morgen
"And so we pass from jarring Clash beats to musty Hammond type organ sounds, making a little detour along a song sung with a falsetto voice. It's rather invigorating and off-the-wall, just like their latest record" Jacques Testud & Anaïs Jouvancy for Rock au Max
"During Jintro and The Great Luna Stef Kamil Carlens seemed to rise above himself: he whirled around the stage like a shaman who, after months of drought, tries to appease the rain gods. The audience whirled along uninhibited. Zita Swoon's T/W concert will enter history as an absolute triumph. Eat your heart out Metallica fans." Dirk Steenhaut for De Morgen
"Zita Swoon, with a curtain of antique record sleeves as a backdrop, provided one of the finest moments Saturday by dishing out a long disco medley in which Abba, Hot Chocolate, Bee Gees, Grandmater Flash as well as Salt'n 'Pepa were hidden. The tent went crazy." Sietse Meijer for NRC Handelsblad
"And the man who was running around in the middle singing through a megaphone was Zita Swoon singer Stef Kamil Carlens, labeling him most original performance at Pinkpop." Sietse Meijer for NRC Handelsblad
"As the concert progressed, the atmosphere slackened with a periodically funny Carlens, During the songs his charisma dripped (and, according to some, was slyly licked up by some of the musicians)-Altogether a very strong and at moments brilliant concert" ChrV for De Morgen
"With Moondog Jr. everyone knows their limits, and understands where the music needs pauses. It really clicks with us.  We never have to think too hard. It was right from the start." Stef for Humo (Marnix Peeters)
"Sultry, jazzy, R&B and blues. Everything is a little derailed. Attacked by Captain Beefheart, Tom Waits and James Brown. Illiterate, voice up front, a little broken, then angry and bellowing. Danceable: real funky drummer and bazz. Two crazy guitars and the little red devil." Debuutrock '93 press folder
---